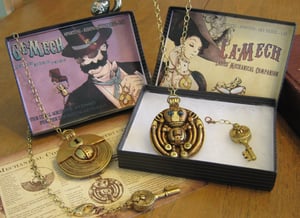 $

45.00
A handy assistant for any mad scientist or aetheric adventurer! The front of this pendant boasts a mechanical design with an intriguing keyhole. Flip it over and come face to face with a tiny robot in sleep mode.
Each comes with a numbered users' manual that gives you a taste of the steamy, punkey world these robots come from, as well as original neo-victorian ad art. The box itself is a work of art!
The robot also comes with an emergency shutdown key, just in case. Keep it on your jacket, purse, backpack or on the chain with your robot.
In two variations to suit all persuasions! The Ladies' Companion comes on a brass necklace chain, and the Gentlemens' Companion comes on a pocketwatch chain. Replace your usual cosplay pocket watch with this little guy for extra flair.